I had been wanting to try
Stitch Fix
for a long time now. Between being pregnant and now postpartum, I've been nervous to try it. I was afraid to get new clothes since I'm not where I want to be weight wise, but then I've ended up having absolutely nothing to wear that fits me right! So I sucked it up and decided to get clothes that fit my body NOW. Humbling.
So I filled out my style profile, received my invitation, and ordered my first
Fix
. I checked the front stoop no less than 20 times on the day I thought it would arrive. Turns out, the next day would bring that box with the pretty mint logo on the top.
I've heard from a few friends who have ordered Fixes that it takes a bit of time (as you order subsequent Fixes and provide feedback) for the stylists to get a feel for your style and preferences. That was SO not the case in my first Fix! I loved EVERY.THING. Which is a wonderful thing... but also a bad thing because the price point of these pieces is not exactly cheap. BUT I don't want to get "cheap" things and I want what I buy to last.

Oh, and phone selfies in my bathroom wasn't my first choice for documentation, but it was the easiest and quickest method. My apologies. You're welcome for attempting to crop the toilet out.
First up was this Collective Concepts Marci Dot Stripe Tabsleeve Blouse.
I loved the pattern, sleeves, and unique neckline. But, the fit was kind of awful on me- Ryan's best observation was that I looked like a nurse. Scrubs apparently aren't my best look. I know that shorter shirts are more "in" now, but that style is definitely not flattering on me. I loved the shirt and I wanted to love this shirt on ME- but I had to nix it in the end.
Next was this Tcec Bernadette Striped Cardigan.
This cardigan is so soft and adorable. The sleeves are a little longer, which is always a plus for me. It didn't take long for me to fall in love with this cardigan. And mint + stripes = total keep!
Next, this Kensie Paulina Stripe Belted Dress.
I loved this dress. Loved the fit, the way it hid my baby "fluff," the unique sleeves, and the stripes, of course. However, the price was pretty steep ($98!) and I felt like this was something I could find at Forever 21 for MUCH less. Pass.
Next up, this Natural Life Corinna Striped Dolman Top.
So this is love... Everything. Every bit of this shirt is dreamy. Major keep.
Last was this Pretty Persuasions Star Print Scarf.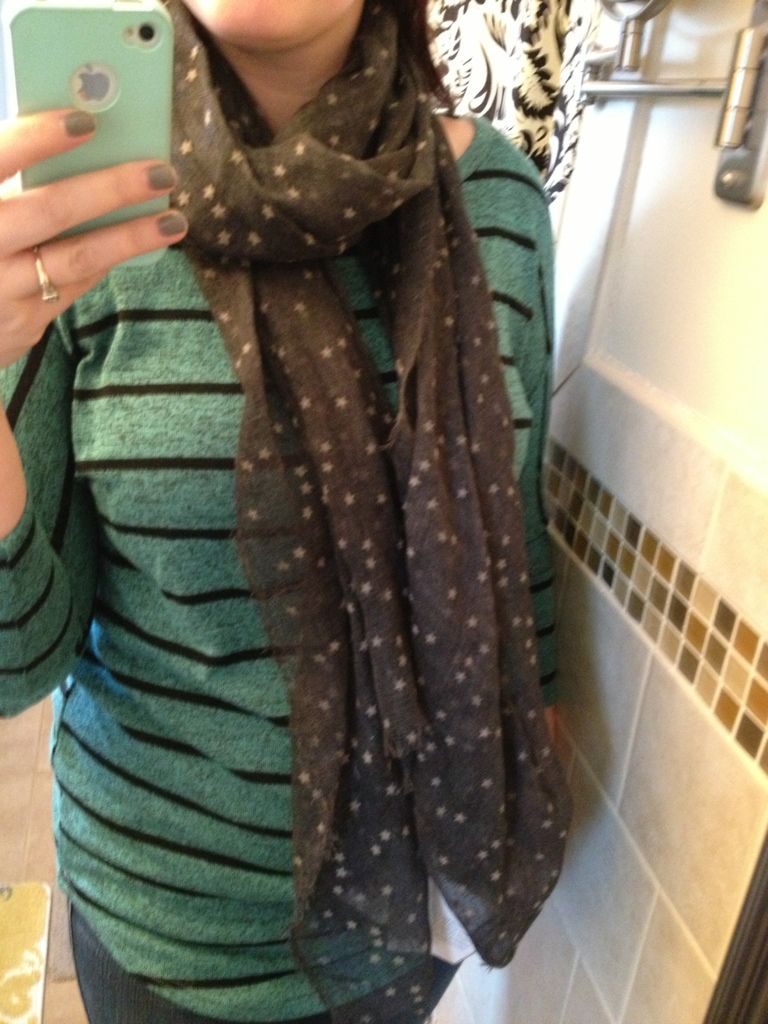 I love scarves. I loved the texture and color of this scarf. But, stars aren't really my thing and I do have a ton of scarves, so I passed on this one.
Overall, I was so pleasantly surprised about how great of an experience this Fix was. I truly did love every piece. The fit wasn't so great for the blouse, the dress was a little too expensive, and I wasn't so much a fan of the stars on the scarf. Style wise, my stylist was pretty spot-on.
I'd love to order a Fix again, and I might wait a few months to see if I drop a few more sizes. I'd hate to get a bunch of new clothes that I soon wouldn't be able to fit into. I'm sure I'll be itching for cute spring tops in a month or so. It was so fun to receive and try on the clothing, and I love the uniqueness of the pieces.