Giveaway time!
I'm so excited! I thought I would do a fun giveaway of some of my favorite and essential items this winter.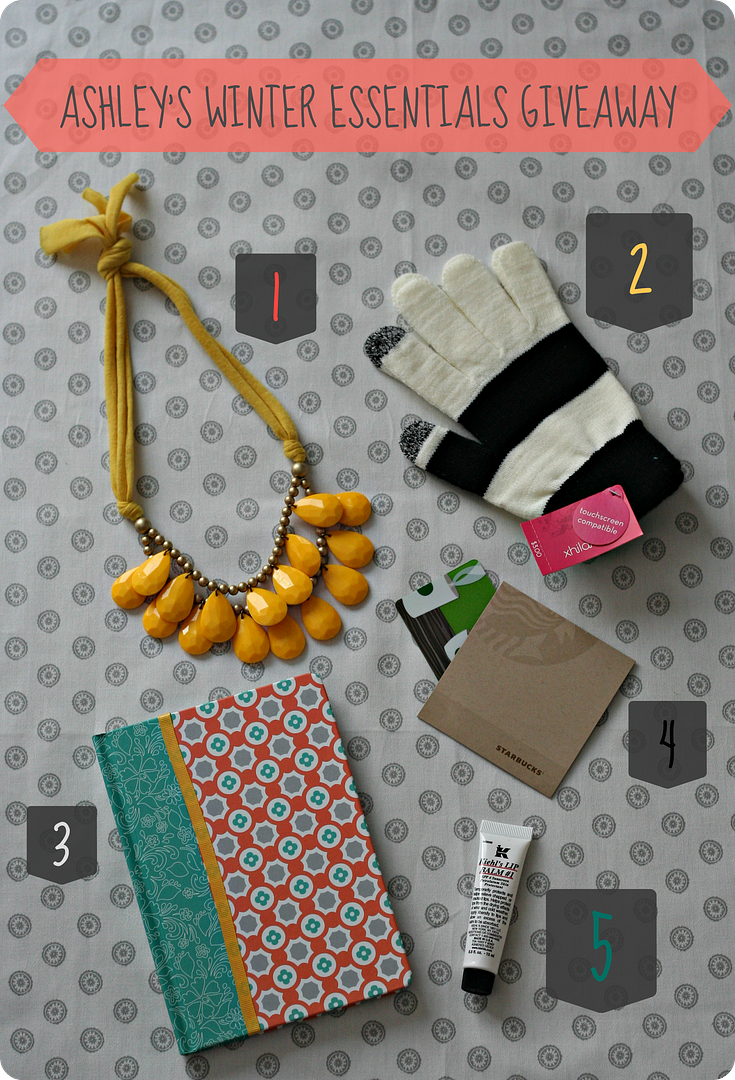 One lucky winner will receive all of these items:


1.
Pretty teardrop necklace.
I may/may not have this necklace in mint and coral as well.
2.
Touchscreen compatible gloves.
Because it's freezing outside but I still need to maneuver my iphone. Obv.
3.
Cutest journal.
I am so obsessed with pretty journals, and OF COURSE the notebook paper inside must be college-ruled. Which it is. I've been scribbling lists and
She Reads Truth
notes in mine. With a black pen - my preference.
4.
Starbucks gift card.
Five bucks. Buy yourself a drink and a half (ha) on me. I've been warming up/waking up with the vanilla spice latte made with soymilk.
5.
Kiehl's Lip Balm #1.
This lip balm has been my favorite for years and protects my kisser in these cold temps.
I haven't been sponsored in any way in doing this giveaway, I just love STUFF and love sharing the awesome stuff that I've discovered. And, I love everyone who reads my blog, which is mostly people I know IRL so I may even be able to deliver it to the winner in person. BONUS!
To enter, follow the directions in the Rafflecopter widget. Giveaway ends next weekend. XO!
a Rafflecopter giveaway