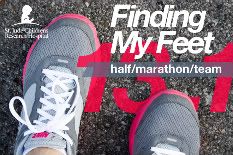 So I'm going to do something a little crazy. I have been wanting to run a marathon for awhile now, inspired by my SIL Leah. I've run on and off throughout the past 10 years or so, but never more than a mile or two at a time. I ran the RWC Homecoming 5k a few years ago and that was the extent of my race experience. So when
Raechel
(whose blog I've read for ages) extended an open invitation to get a
team
together and run the St. Jude Half Marathon in Memphis in December, I died a little inside, knowing that there would be pretty much zero chance that I would be able to participate. Not only did I want to have a great goal like running a half (and have the accountability because I would HAVE to run it after being sponsored and all) but I thought it would be just so great to meet up with some blog friends in real life. So, after talking with Ryan and hemming and hawing for a long time, I pulled the trigger and registered for the race.
I am so stinking nervous. Not about meeting friends I've only known in blogland in real life (since this is not the
first time we've traveled great distances to do so
... that was one of the BEST trips ever!), but I am scared silly to run those darn 13.1 miles and literally not fall over and die during or after. I have worked up to 5 miles, and being part of a great team is encouraging me greatly. The Nike+ challenges that our team have been participating in have stirred in me a deep rooted competitiveness that I didn't really know was there! I definitely have finally, for the first time ever, truly experienced a runner's high. I'm addicted!
Please feel free to visit
our team page
and become a sponsor. Every little bit helps this great cause. I'm super grateful for this opportunity, and I'll be sure to document my progress as December 3rd approaches!